New Medical Practice IT Setup & Support
We set up everything to do with IT in your new Medical Practice. We ensure everything works efficiently to minimise downtime on your system.
If you are setting up a new medical practice, please consult with us at CRT and we can guide you through the process. We can help you get your new practice setup for accreditation by following best practices.
We deal with over 30 medical clinics in Brisbane and the Sunshine Coast and have lots of experience when it comes to setting up a new medical practice.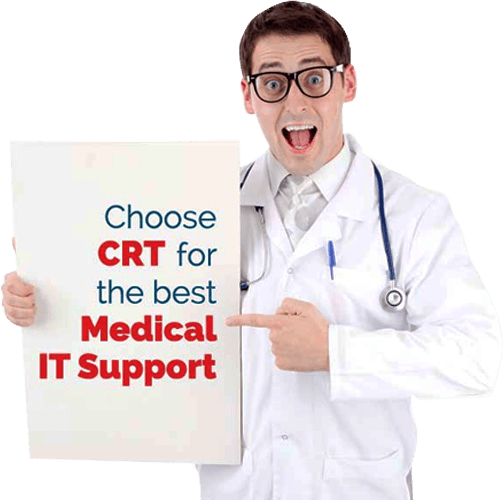 Strategic Planning
We consult with you to meet your IT needs.

We meet with your site engineer to determine best locations for equipment.

We provide competitive maintenance plans to secure your data.

We provide the best hardware supply/equipment for your business and budget.

We look for alternative opportunities to reduce cost.

We are very proactive with our approach.
Installation and Setup
We provided assistance in installing medical software.

We test equipment and software on site and remotely.

We create a rollout plan for new equipment then stick to the plan.

We work on installation based on your availability.

We provide on site training when required.

We create detailed site documentation.
The Most Trusted Business IT Support provider in QLD
Data Integrity
 CRT ensures your backups are secure and integral by performing routine test restores of your data.
Server Monitoring
CRT provides 24/7 around the clock monitoring of your server keeping systems secure and efficient.
CRT Firewall
CRT will monitor your firewall always ensuring your systems are kept safe and secure.
Network
CRT will ensure that there are no bottlenecks on your network hindering speed and efficiency of your business programs.
Antivirus
CRT have a managed enterprise grade Anti Virus that will protect your PC'S , SERVER'S and Network from attacks from the outside world.
Accreditation
CRT follows strict processes to comply with accreditation standards. We can help you achieve accreditation for your business.
Network IT Policy
CRT will help you develop an IT policy that adheres to business standards for your staff. Often attacks come in from staff accessing personal email on your network. We have number of checklists in place to keep your network and business data secure.
Helps Desk
CRT maintains a high level of availability to trained staff that are always ready to take your call. Our office hours are Monday to Friday 8:30am – 5-00pm, Our emergency number is 0433 835 115. We are always available for you.
Medical IT
We deal with various Medical Software vendors, such as Best Practice, Medical Director, Genie Medical, Bluechip, Zedmed, Shexie, Stathealth, Frontdesk and many others. Please contact us if you need Medical IT Support today!