Get a business phone system that suits your needs, without signing a long term contract with your Internet Provider. Let CRT Network Solutions help find you a Business Phone System that works for you!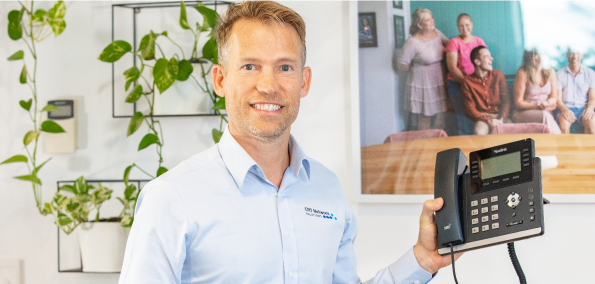 Business Phone System Features: This Month's Tech Spotlight
BRINGING YOU OUR PICK OF THE BEST TECH ON THE MARKET FOR YOUR GROWING BUSINESS
In this month's Tech Spotlight we chat about your Businesses Phone Systems.
More and more companies are choosing cloud phone systems, and with good reason.
Cloud-based phone systems use Voice over Internet Protocol (VoIP) technology to connect phone calls. Say goodbye to old legacy technology like analog telephone lines or any on-premises hardware that give us endless hassles. All you need is a high-speed internet connection.
Running your phone service in the cloud has many advantages, like lower monthly business phone costs and improved mobility for remote workforces.
From small businesses on-the-go to large enterprises, thousands of businesses enjoy the flexibility and scalability that only a cloud-based phone system can deliver.
We know that introducing a whole new phone system to your business may seem scary, but it doesn't need to be! With CRT's Business Phone Systems, it's quick and easy to set up, so there's no down time for your business or expensive installation costs.
Here's why our Business Phone Systems are a great solution for your Business
It's simple to see why more and more Businesses across Australia are switching to this amazing technology. Save money, improve Customer Service and increase reliability and performance with our Business Phone System Solutions.
Don't Take Our Word For It…
Here's what our wonderful customers from across the Sunshine Coast had to say about their experiences with CRT Network Solutions.